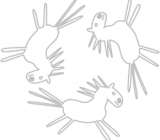 MCLAREN VALE, SOUTH AUSTRALIA
Since producing our first vintage in 2009, we have remained focused on creating unique, hand-made small-batch wines.
Influenced by three generations of wine makers, our family pride ourselves on creating an enjoyable experience within every bottle.
Three Generations of Wine Makers
It's the three generations that really make this label something special. Our focus being small-batch, hand-made, affordable wines of character that represent our own unique expression of the McLaren Vale region. 
Established on a 22 acre vineyard in Blewitts Springs, South Australia, we are located in the heart of a region known for producing magnificent red varieties. On our vineyard, we produce variants of Shiraz, Grancahe, Touriga and have some Cabernet vines that are over 60 years old.
Find out more about our three generation winery and how Three Dark Horses came about.
We'd Love To Hear From You
The Three Dark Horses team is here to help! Whether you would like to place an order, organise a personalised wine tasting or you have some questions, please get in contact with us.
You can contact us via a Facebook instant message or alternatively, by hitting the big blue button below and filling out the contact form.
We look forward to hearing from you.